Skip to Main Content
It looks like you're using Internet Explorer 11 or older. This website works best with modern browsers such as the latest versions of Chrome, Firefox, Safari, and Edge. If you continue with this browser, you may see unexpected results.
Defining plagiarism
Plagiarism:
The practice of taking someone else's work or ideas and passing them off as one's own.
Taken from the Oxford Dictionary online
At your NPC library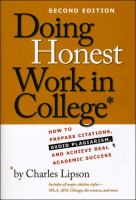 Doing Honest Work in College
Circulating - PN171 .F56 L56 2008
The Complete Guide to Referencing and Avoiding Plagiarism
Circulating - PN171 .F56 N48 2010
NPC Student Policy
Academic Honesty
---
Academic integrity is a vital element of any learning community. NPC faculty hold themselves to the highest standards in this regard, and expect their students to do the same. Students who compromise the integrity of academic inquiry are subject to disciplinary action on the part of the college. A violation of academic honesty may include (but is not limited to) the following:
Cheating on written examinations, quizzes or other written work.
Plagiarism - the use of another's intellectual property (thought, writing, etc.) without proper reference/citation, whether directly quoted or paraphrased.
Giving or receiving unauthorized assistance during a test.
Falsification, forgery, or alteration of academic records.
Obtaining or attempting to obtain copies of a non-circulating examination.
Penalties for breaches of academic integrity may include receiving an F for the assignment in question, receiving an F for the course, and/or dismissal from the course. In extreme cases, the administration reserves the right to suspend the student from all studies at the college.
Self-plagiarism is also cheating; this includes
Using any material portion of a paper or project to fulfill the requirements of more than one course unless the student has received prior faculty permission to do so.
Using one's own past work for future assignments and not citing oneself as a reference.
For more on NPC's Academic Integrity Policy, go to: https://np.edu/facstaff/documents/fac-handbook.pdf
Online Resources
These are great resources for learning about plagiarism and how to cite your research.
When in doubt--cite
As a general rule, if you have used words, ideas, images, etc. in your research, that aren't your original words, ideas or images, it is best to cite your work. Penalties for plagiarism can be severe.